The Obsession: Printed Shoes and What to Wear with Them
When I'm in a client consultation, I ask a series of questions – about my client's work, their weekends, how they want to be perceived, which clothes make them feel confident, their budget, their sizes, etc. And then we get to the questions about style: What do they like? What don't they like? Occasionally, I hear the response, "I don't wear prints." And I duly note this answer, but in no way am I going to build a wardrobe without prints! I definitely have ways to work with the print-phobic – I focus on more subtle prints, patterns that come across as textures, two color prints, etc. And I never force anyone into anything – all I ask is that they are willing to try it before they pass judgement. But when I do encounter clients that have a predominantly solid wardrobe, I ask them to try something that may be a bit out of their comfort zone – printed shoes.
Printed shoes are a stellar method of adding obvious interest, dimension and style to otherwise solid or sedate looks. They provide a generous dose of joy and fun, and can truly be the 'star' of the outfit. And occasionally, I become slightly obsessed with a certain printed shoe. I see it at the beginning of the season, and I know that by the end of the season, one of my clients will be lucky enough to get it.
This happened recently with two clients. This summer, I found these effervescent floral print heels (sadly, no longer available) and just a couple of weekends ago, I happened upon these super cool snake print loafers (currently available here). Both clients were open to them, but it always helps when I provide outfit ideas – so check out how I outfitted both of these so that they slide seamlessly into my clients' wardrobes.
---
SNAKE PRINT LOAFERS
My client just started a new job, so we were looking for styles that work at her new office. She dresses on the more professional side on a daily basis – skirts, dresses, trousers, etc. – but for casual Friday, these loafers are ideal. They are the perfect way to pep up a simple outfit of jeans, a black sweater and her trusty trench.
And while we were shopping (our first shopping trip together), she told me that she never would have picked out these shoes herself, but that she loved them. She actually emailed me later that evening to let me know that she was already wearing them!
And even though these shoes are great on casual Friday, they're also good Monday-Thursday, too. With a pair of slim ankle pants, a plaid blazer and pop color blouse, they're the ideal addition to her everyday work look.
But don't assume that my client will be ignoring these shoes on the weekend! Since they're a comfy flat, she can easily grab them for Saturday brunch or Sunday strolling – they add a bit of unexpected flair to a sweater dress and denim jacket, which makes them an excellent choice for early fall.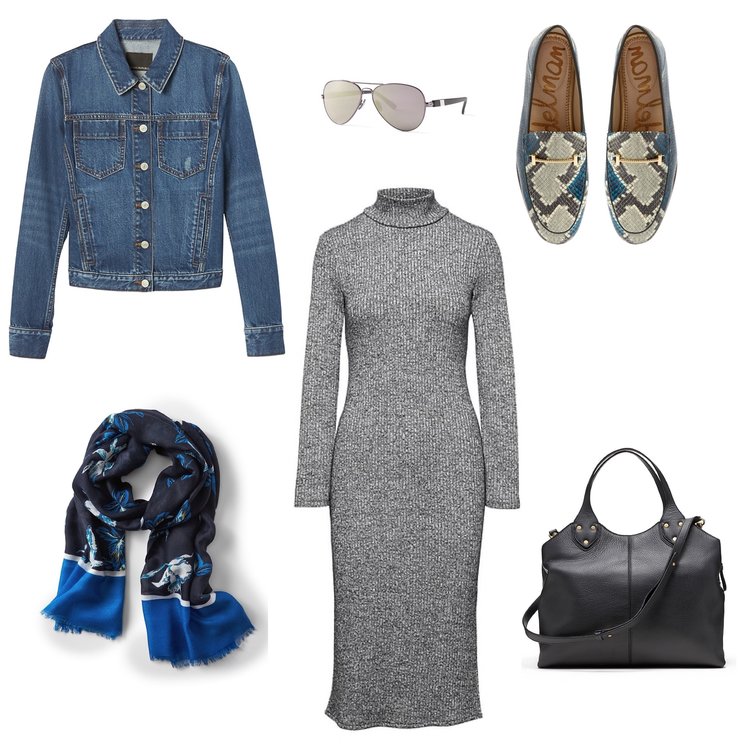 Snake print flats by Sam Edelman. Clothes and all other accessories by Banana Republic.
---
FLORAL PRINT HEELS
The client lucky enough to get these shoes is a long term client – we've been working together for a couple of years, creating a wardrobe that works when she's both on and off-duty. She has a pretty high-profile job, which often includes business travel, presenting on stage, and various client meetings. But she also has office days where jeans are her go-to.
For presentations, I created this look, combining her floral heels with this amazing orange leather jacket and a simple black sheath dress. It's an outfit that clearly expresses her personality – professional, not afraid to be noticed, with a great sense of humor.
My client bought these shoes and the orange leather jacket during the same shopping trip, so I wanted to give her another way to wear both. By pairing them with a simple white top and jeans, I showed her how to completely dress down both pieces for a fun girls' night out.
For regular office days, my client often gravitates to a blazer, silk blouse and trousers – so I wanted to design a look that's in her comfort zone, but uses print and color to add some flair. Mission accomplished, if I do say so myself!
If you're looking for someone to help push you out of your style comfort zone so that you can get more mileage out of what's already in your closet, let me know. Simply click the button below to schedule a free phone consultation and we'll get the conversation started.
Floral print heels (last season) by Sam Edelman. Orange leather jacket (last season) by Lafayette 148. Black and white tweed blazer by Rebecca Taylor. Berry trousers and black blouse by Banana Republic. Gold bib necklace by Karine Sultan. Black and gold necklace by Alexis Bittar.