Style Tips to Flatter Your Figure
When I'm working with clients, our main goal is to create a wardrobe that you feel great wearing – no matter your lifestyle, body type, budget or skin color. And yes, part of this is achieved by identifying the clothes in your closet that work and buying styles that fill the gaps in your wardrobe. But a big part of this is also achieved by showing you how to dress your body. Because even if you have a closet full of amazing clothes, you still need to know how to wear them to flatter your figure and enhance your assets so that you can love what you see in the mirror, every day.
One of the biggest parts of dressing to flatter your figure is keeping things in proportion. What do I mean by proportion? I mean balancing your overall frame so that nothing is specifically over or underemphasized. And one huge part of this is highlighting your waist.
Highlighting your waist is something that I work on with clients of all body types. Bodies look most in balance when your upper body (the part above your waist) appears to be about 1/3 of your overall height, and your lower body (the part below your waist) appears to be 2/3 of your overall height. The main goal is to achieve a long leg-line, which results in these proportions. And how can we do this? By highlighting your waist.
And don't worry – I'm not suggesting that you wear tight clothes or cinch all your outfits with a belt. What I am suggesting is that you follow a few tips on how to draw attention to your waist in a perfectly comfortable way, to enhance your figure and show off all your amazing assets.
---
WEAR A BELT
I know – I just said that I wouldn't ask you to cinch all your outfits with a belt. And I'm not. What I am asking is that you wear one, since it's a no-brainer way to call attention to your waist. And if you're thinking, "what, Paul? belts??", you're not alone. Belts are usually a big conversation with my clients. Either because they don't have any or have a few but never wear them or belts haven't even entered their mind as a key component of their accessory collection.
Of course, you can wear a belt with your pants and jeans – that's the easiest thing to do. But you can also use a belt to reign in a shapeless dress. You can wear a belt over a long top to show your shape. And you can pick belts that work with your specific body proportions in mind. With pants & jeans, your belt width is somewhat dictated by the size of your belt loops. But as a general rule, wear thicker belts if you're long waisted and thinner belts if you're short waisted (and click here to see the belt that I add to almost every client's collection!).
BONUS TIP: If you're wearing a dress that comes with a self-belt – aka a belt in the matching fabric – ditch the self-belt and replace it with a leather one in a contrasting color. It calls even more attention to your waist and also makes your outfit look much more expensive.
---
TUCK/FRONT-TUCK YOUR TOP
Tucking in tops is a controversial topic, since many of my clients are habitual non-tuckers (before they meet me, that is). And their biggest concern is that tucking will show things that they're not comfortable showing. But believe me – in most cases, a tucked in top that's slightly bloused flatters your figure better than a long, untucked top. And it shows where your waist is, which is the point, right?
If you're not into a full tuck, a front-tuck achieves almost the same thing. We get a glimpse of your waistband, which visually appears to be where your legs begin – so, we're getting the longer leg-line that we're going for. And my general rule is that if your belt loops are visible, wear a belt.
BONUS TIP: If you're a fan of the oversized blazer trend or love a long, unstructured cardigan, a tucked/front tucked top worn underneath is key to balancing your overall proportions.
---
CHOOSE SHAPED TOPS & THIRD PIECES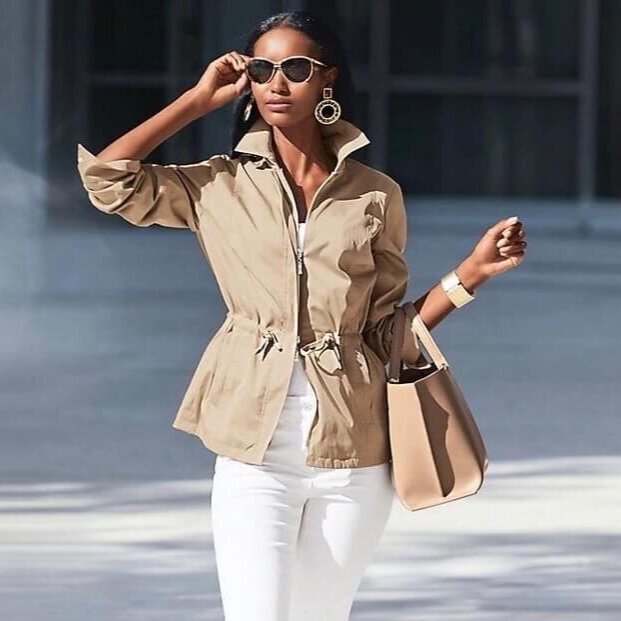 Ok, here's where you can breathe a sigh of relief. Because wearing a belt and tucking in your top aren't the only ways to highlight your waist. The shape of your top or jacket emphasizes your waist just as well.
Examples of tops/third pieces that show your shape are styles that are tailored to come in near the waist (like peplum styles) or have a drawstring or elastic at the waist, or something else that keeps it from being a straight up and down shape. And if your top or dress is basically shapeless, a shaped jacket or cardigan can save your outfit and balance your proportions. (Read this and this for a couple of my favorite jackets for spring and summer.)
BONUS TIP: How do you know if your top/jacket is shaped? Look at yourself in the mirror and gently relax your arms at your sides. Do you see negative space between your arms and body near your waist? Then your top/jacket is probably shaped. If not, then it's probably not.
---
CHOOSE TOPS & THIRD PIECES THAT END NEAR YOUR WAIST
Another simple way to highlight your waist is by choosing tops and/or jackets that end near your waist – as opposed to longer hip or tunic length styles. You know what I mean, right? You put on a dress that shows your shape nicely and then you toss on a cardigan – but the cardigan ends closer to your hips, so your waist is lost. And that's not what we're going for.
BONUS TIP: If you're petite or short waisted, you may need to look for 'cropped' styles to have them end near your waist. But if you're taller or long waisted, cropped styles may be too short. The goal is to have your top and/or jacket end near your natural waist, which is typically just a few inches below the bottom of your ribcage.
---
PUSH UP YOUR SLEEVES
Pushing up your sleeves is a subtler, but still effective, strategy to highlight your waist. It adds a horizontal line at the waistline, which quietly draws attention to your waist. So, the next time you're wearing a long sleeve top or jacket, push your sleeves up toward your elbow, look in the mirror, and you'll see what I mean.
BONUS TIP: Elbow sleeve and ¾ sleeve tops/third pieces achieve the same goal as pushing up your sleeves, but you don't have to worry about your sleeves sliding down during the day. And you can always shorten jacket sleeves to ¾ length to achieve this (as long as wouldn't be wearing long sleeve tops under the jacket at some point).
What methods will you start using to highlight your waist? Let me know in the comments! And if you'd like to learn how to balance your figure and feel better in your clothes, click here to find out how we can work together virtually (and here for in-person services) so that you can feel great in your clothes and create a wardrobe that works for your body and your lifestyle.LET'S WORK TOGETHER!
Photos from (top to bottom): Sezane, The Working Girl, Hanse Lager, Stylish Curves, Alternations Needed