Paradise Lost: Reclaiming Destiny Envisions Eden with a Twist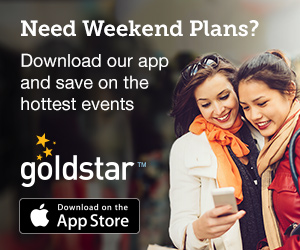 By Ellen Dostal
The purpose of all theatre – regardless of its individual form, style, or manner of presentation – is communication. It must be able to reach an audience before it can even begin to challenge them, or change them, or even simply make them feel something. If it does not, it will have failed in its all-important task, for without that two-way bond, the artists on stage end up performing in a vacuum and the audience quickly loses interest.
There's not a chance in hell that an audience member could fail to be engaged in Not Man Apart Physical Theatre Ensemble's latest new work, Paradise Lost: Reclaiming Destiny. The company has found a tantalizing niche with its athletically rich dance, movement & sensory exploration of stories that literally leap off the stage into the stratosphere. This latest production pushes that unique concept to new heights as it invokes the mighty forces of good and evil in a struggle of epic proportions.
The piece runs 65 minutes in length and is adapted and handsomely directed by NMA's co-artistic director & longtime company member Jones (Welsh) Talmadge. It is performed without dialogue, but combines dance, movement, music, aerial acrobatics, and interactive video projections, to create a theatrical world that never stops moving. The visual design by J-Walt Adamczyk (who also plays Father God) is dazzling, with psychedelic images that morph and mature like a living breathing character, all generated by cast members on stage.
Based on John Milton's classic poetic narrative about Satan's banishment from Heaven, and his subsequent role in Adam and Eve's fall from grace, it is a visceral interpretation of the story that has, at its heart, a modernistic point of view. As gender roles today come sharply under scrutiny, this version of the story honors Milton's underlying themes but does so by making fresh decisions in the way it carries out its story.
For example, here it is Adam (Leslie Charles Roy Jr.) who is tempted by Satan and eats of the forbidden fruit, then convinces Eve (Alina Bolshakova) to do the same. This simple reversal is a bold choice and one that encapsulates Paradise Lost's message by disrupting what is expected in order to break open the possibilities of what lies beyond.
Another way the production disrupts the predictable is by inserting a fantasy sequence ripped from the era of Leave it to Beaver, but with a twist. A stereotypical 1950's husband and wife are having dinner in their happy sitcom kitchen but the scene turns sinister when daddy doesn't like his meal and his terrified spouse ends up the victim of domestic abuse. That the characters are played by fallen angels Sin (Laura Covelli) and Death (James Bane) makes it even more macabre, as does their behavior's resulting effect on Adam and Eve.
The cast is a ridiculously talented group of artists who make the rigorous physical aspects of the play appear effortless. Whether engaged in forceful battle scenes or moments of abject peace and beauty, each one burrows into the story from his or her point of view and contributes to an emotional journey that elicits great rewards.
None are more seductively wrought than Satan himself, powerfully played by Talmadge in a striking performance precariously balanced on the edge. If you watch the effect he has on every other character on stage, you'll come away with an even deeper understanding of how connected we all really are. You'll also see how nothing is as black and white as it seems. He may be a brute but there is beauty in his torturous descent into hell, which is choreographed as a muscular display of aerial gymnastics with the artist suspended from chains while a cataclysmic panorama erupts behind him. It is both ugly and devastatingly gorgeous at the same time.
The original score by Bernie Sirelson, Alysia Michelle James and Elisa Rosin is a blend of techno pop, rock, and electronic music that ranges from the majestic to the subtle, with a few angelic vocals thrown in for good measure.
Sound, lighting, and costume design (created by Niki Amato, John E.D. Bass, and Ashphord Jacoway, respectively) further enhance the multi-dimensional quality of the play as all the separate elements coalesce into a single pulsing heartbeat.
With Paradise Lost, Not Man Apart continues its evolution as a company while passionately exploring the connections between humanity and art, actor and audience, individual and the world. Making theatre relevant with such sophistication is a special kind of brilliance. More, please.
PARADISE LOST: RECLAIMING DESTINY
March 10 – April 2, 2017
Not Man Apart Physical Theatre Ensemble
Greenway Court Theatre
544 N. Fairfax Avenue
Los Angeles, CA 90036
---
Ellen Dostal is a longtime west coast editor and reviewer for BroadwayWorld.com, the largest theatre website in the world. A self-professed musical theatre geek, she also publishes two popular Southern California theatre blogs – Musicals in LA and Shakespeare in LA – and has covered jazz and classical events for the KJazz 88.1 FM and K-Mozart 1260 AM Arts and Music Blogs. As a founding member of New Musicals Inc's repertory company, she has developed roles in countless new works, many of which have been produced regionally and in New York. She also continues to work as an actress, singer, and voiceover artist in Los Angeles.
---