Irresistible at Any Age: Here's How.
The women I photograph challenge stereotypical views on age and aging. They are youthful in mind and spirit and express themselves through personal style and individual creativity…Ari Seth Cohen: Advanced Style
There are many things that become more challenging as we age, but fashion should not be one of them. Finding clothes that are in style, affordable and look good on you should not be an issue. But in all reality, it sometimes can be. There are a number of individual changes, in attitude, in body comp and in style, that come into focus as we mature, and how we adjust to them is very personal. It's not always easy assessing oneself honestly to see how we can update our look. And, lest we forget that we are coming out of two+ years of lounge wear. Do we even remember what our bodies look like?!? And, what was my style, you might ask yourself?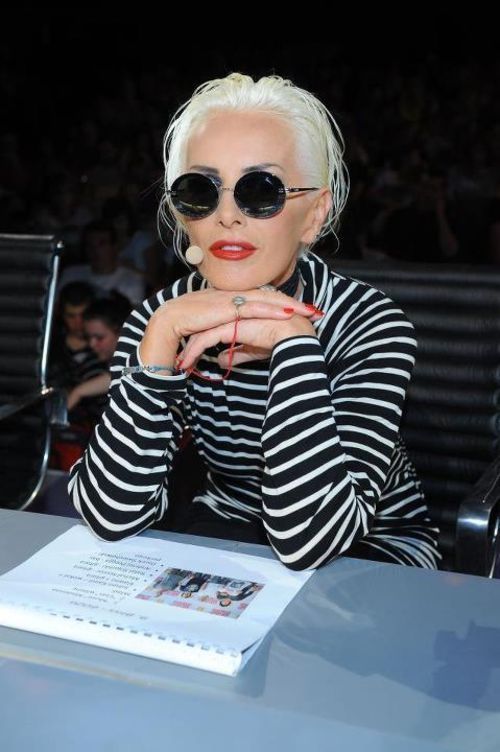 I'm going to focus on moving into our sixties and beyond. Sixty is a transitional decade on so many personal and professional levels. Especially with sixty being the new forty – or so they say. Personally, I loved my forties, do I want to go back there…NO.
When I turned 60, I was 2 years into a new company as Dir. Merchandise & Marketing for a successful Home Textile/Décor Co. And, I was the oldest person in the company, including the owner. This for me was a study in other people's age perceptions and how I would navigate throughout the company.
So much of our fashion sense on how we transition into this decade depends on our individual style. For years we have heard the phase "age appropriate." Which seems so outdated now. Our style is always evolving – with age, with trends, with new jobs and environments. By this time in life, we should have a pretty good idea of what works best. We know what is no longer flattering to our body and no longer fits our life and work style.
The one thing we do not want to do is…Dress younger! We want to embrace our sophistication and fashion experience. Dressing younger has the exact opposite affect – you look older and not in a good way.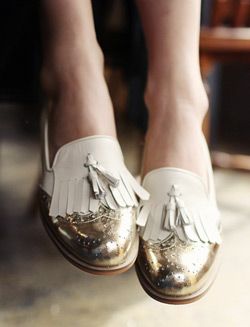 A famous quote from Coco Chanel "Before you leave the house, look in the mirror and take one thing off." "It is always better to be underdressed." Excellent advice. I would also recommend that an unexpected piece be added to your look. A shorter jacket, instead of a traditional length blazer. An off-beat shoe in 'color.' Or an oversized scarf. If you are more comfortable in sports clothes, mix it up a bit. Add a classic cashmere crew or V-neck sweater and a lux street sneaker. Cariuma has an explosive array of colors and they are really comfy.
With these couple of tips, you've taken your sports look in a cool, classic direction.
Know Thyself…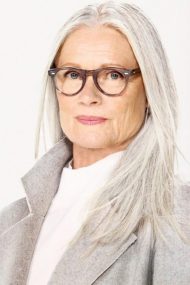 Navigating this new phase will totally depend on your perception of yourself and what your day to day looks like. The beginning of a new decade is the perfect time to do a little personal updating. Maybe let your hair grow, who says you cannot have long hair after a certain age??? How about letting your grey hair grow in, or maybe you always wanted to be a redhead – go for it! We'll talk later about your closet and a few new looks you might want to rotate into your wardrobe.
We are always updating our homes. Moving things around, a bold new slip cover, an animal print ottoman. Let's think about a fresh new look for ourselves. We can take baby steps or breakout in a bold new look for
our style and our sixth decade.
Even if you are not commuting to an office any longer, we all go out to lunch, go to a museum, have dates with girlfriends and husbands, and maybe even a blind date. We want to look smashing when we step out. It
does not matter if we are more traditional, or on-trend. In fact, I like the look when a more traditional item is in the mix with a trend. What we want is to be fashionable@any age. To my eye, there is nothing more appealing than to see a fashionably dressed Platinum Boomer. We might all have a different image of that look, but we know it when we see it.
We all periodically go through and edit our wardrobes, which is an excellent habit. Along with a general edit, a stylist friend gave me the best closet advise. At the beginning of every new decade spend a day or two in your closet. More than editing you're going to, honestly, decide what is still viable and what no longer fits your style, your body and your mind-set. We all know having a friend on board with you makes this task a bit easier and fun – most outfits have their own story to tell!
While going through your closet, you'll want to think about your look. Does it need an update? Is it time to add some color, perhaps a pattern or two? Or a little edgy trend to heat things up?



Here are a few tips to help pave the way…

Pick a palette – we all have one. Make an appointment with a color specialist that will help you determine your perfect color palette and season. This is money well spent, especially if you are color phobic.
Susan Blakey, creative dir of Une femme d'un certain áge. Talks about her color palette experience in this great blog.
Seek the unexpected – look for a store that you might not normally shop. If you want a little edge to your traditional style look for a shorter leather moto jacket that you can toss over a dress or team with a fitted
blouse and gaberdine pants for an updated work outfit. At first, this might not be your look, but it will add a touch of 'la joie de vivre' to your wardrobe. Don't forget the delicate short strand of pearls. This look is an
easy edgy (leather jacket) classic style (pearls.)
Love your pinstripes and bankers grey – me too! Add an on-trend long-line blazer in a pinstripe, over leather leggings, a silky blouse, and a great belt. If it's a navy pinstripe pant, toss on a burnt orange cardigan and a bold broch or a smaller size neck scarf.
Ying + Yang – mixing textures and metals. A new sequin top with your favorite jean jacket. A short tweed blazer over a peasant blouse. Take your, above the knee, trench coat out for date night. Wear it over silky
wide leg, high waisted pants and a fitted top. Mixing in gold and silver accessories.
Remember along with those sixty years comes a lot of self-confidence. Volumes of knowledge and a fearlessness that only comes with age and life experience. So, if you feel like breaking out of the look you've had for ever – go for it. Explore all your options. The effort will be restorative.
It's taken a while, but thankfully, more retailers are realizing the buying power of 'Generation Ageless.' The paradigm of a visible, viable, sophisticated shopper with disposable income is making its way around established marketing roadblocks. Marketers are coming to the realization that style and sophistication do not have an expiration date! Along with Nordstrom and Bloomingdales a number of other retailers are worth a look, if you have not already:
The Generation Ageless Stores…
Everlane – A go-to for basic, classic cuts, in all sizes. Along with a vast assortment of sweaters in a wide range of colors. Available in 100% cotton and /or cashmere.
White House Black Market – Exclusive signature designs and special collections that are refined and feel tailor made. Excellent assortment of styles.
J. Crew – A classic east coast relaxed style. At first glance it's a younger look, but when you look further there are good finds to work into your existing weekend wear.
M.M. Lafleur – If you know and love luxurious fabrics and are willing to pay a little more for quality items – this is your one-stop shopping store.
Zara – The stores are a study in merchandising perfection and offer a wide range of styles. Seek out the 100% cotton stripe tee shirts – very French.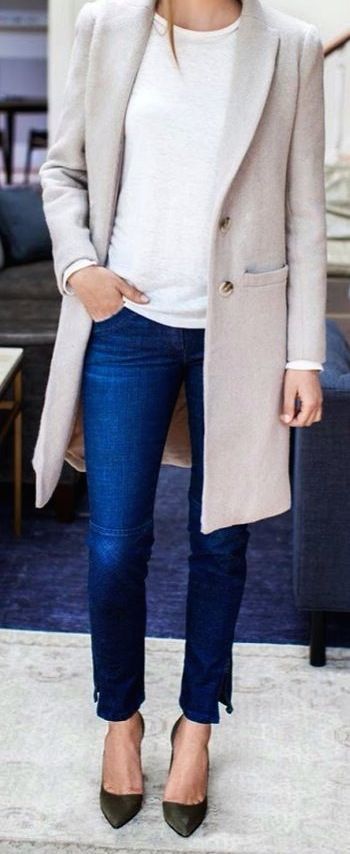 Denim…
Let's talk denim. It still rules and should not be left out of your mix. The thing with denim is it can go either way – perfection or frump! The secret to a great pair of jeans is the fit. You know how we spend the
time and the money on a properly fitted bra – well denim is in the same "it has to fit properly" category. I know for some of you, I'm preaching to the choir – you have a stack of denim in a pyramid of colors. Or perhaps your denim stack has morphed into a stack of leggings. Which is great, but requires a bit more effort to dress up. Depending on the denim rinse and the fit you can be Saturday casual or dressed up for date night. A good rule of thumb: Is a dark rinse, in a higher rise, at the waist, elongating your legs and torso. A straight leg goes with everything. A medium/lighter rinse in a lower rise (then waist) in a modified boot cut is a good companion pair. The two additional denim must-haves – are a white pair of jeans and a black pair. With the proper fit, these four jeans can take you anywhere. Think white jeans, a white turtle neck, or tee-shirt with a lightweight black cashmere poncho, white sneaks, or black booties. Pure perfection.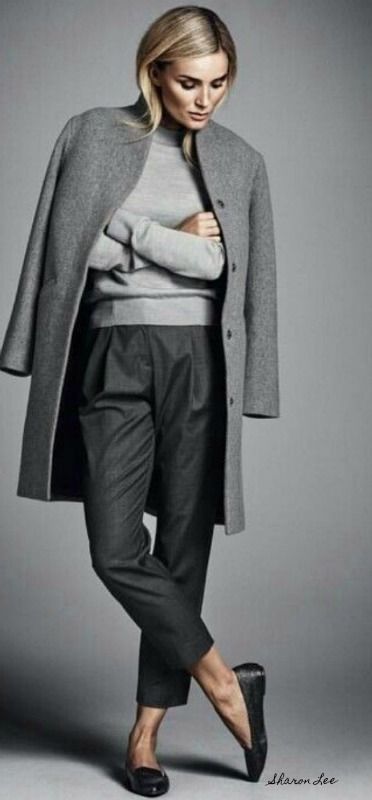 Another must have is a lightweight, above the knee statement coat. I like a more straight-line fit. Zipped or buttoned. Add a soft shoulder pad for a more squared look and pockets. This is the perfect item to add in a
neutral for versatility. An excellent unexpected touch to most outfits.
A personal thought…or two
I hope that some of these suggestions spark a new thought or two about a personal update. We all know how positive it is when we have a new hair-cut or color, we love how it makes us feel. And, that is really the point here – To feel good about ourselves! And, to take care of that special person reflected in the mirror.
My attitude about aging is to be…Fearless. Visible. Aware. Daring. And Comfortable in my body.
We do not come with an expiration date and we do not have to fade into the sunset. Today, more than ever, we are ageless and by that I don't mean we are chasing our lost youth. Instead, we are embracing our wisdom, our health, love and friendships. We are viable, we are confident – we are accomplished.
We have broken many barriers in our maturing process and it's not over yet. In fact, it looks like we'll be out and walking shoulder to shoulder with our granddaughters and daughters who are now fighting a fight we
thought we had won. That's another post!!
For now, girlfriends, be vigilant about maintaining your visibility. Take pride in how beautiful you are – inside and out.