5 Holistic Remedies to Sleep Better and Relieve Stress
Every day we're exposed to many different stressors in our lives. Maybe we become stuck in traffic on the way to work, or we have a leaky pipe at home. Anything, big or small, could cause stress and anxiety, not to mention a pandemic.
For me, 2020 will probably win the award as being the most stressful year in history, especially since I live in New York City, which experienced a heavy toll from Covid-19. And New Yorkers are still experiencing the aftereffects of the city having been an early hotspot. For my patients and online clients, sleep, worry, nervousness, and feeling down are some of the lasting effects of this period. How are you feeling?
According to the Anxiety and Depression Association of America, anxiety disorders in the U.S. affect 40 million adults. That's a lot of people who are suffering. If you're one of them, you'll want to know about a group of holistic remedies called adaptogens that can come to the rescue, offering relaxation and improved sleep.
Over the years of helping so many with stress-related symptoms , I have found that adaptogenic herbs help my clients to relax. They are most effective over a longer period of time, so I suggest incorporating them into your long-term routine to best test out their properties.
As compounds that help you handle anxiety, adaptogens bridge the way between the medicine cabinet and kitchen in the holistic wellness world. Used in Ayurveda and Chinese medicine for centuries, they are healing plants that help balance, protect, and restore the body. Adaptogens offer numerous healing properties and benefits.
Adapting to stress with adaptogens can be one part of your holistic arsenal. Add them to your other proactive healing steps, including sleeping well, exercising regularly, eating healthy foods, staying hydrated, spending time being mindful and/or meditating (either guided or on your own) and identifying triggers that cause your stressful thoughts and reactions.
Here are 5 remedies to help you relax, calm your anxiety, and have better sleep*:
Ashwaganda: This herb induces a state of calm by lowering cortisol levels. You may be familiar with the name, as it is well known to help reduce anxiety and stressful feelings.
Valerian Root: Using Valerian is a great way to enjoy better sleep. Some studies show that Valerian helps people to fall asleep more quickly as well as improve sleep quality. Often combined with some of the other herbs listed here, it can also be used to ease PMS, hot flashes, menstrual cramps, and anxiety. Warning: Don't take Valerian and drink alcohol, and also avoid such medications as sedatives. And beware: The smell is pungent.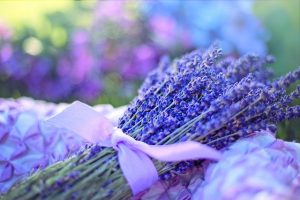 Lavender: Lavender is a popular, wonderful smelling herb used especially for promoting relaxation. Placing a jar of lavender in your bedroom or using a lavender pillow spray can help you fall and stay asleep.
Chamomile: Drinking a cup of chamomile tea at night before you go to sleep is a helpful habit to help you wind down from the day and transition to a peaceful sleep.
Lemon Balm: Taken alone or in a cup of other herbal tea, lemon balm has been used since the Middle Ages to encourage relaxation. It is also helpful with digestive issues and headaches, which often accompany stress and anxiety.
* Important Note: You should always consult your doctor before starting these herbs, especially if you're currently taking medications. In addition, recommended doses can differ, depending on the product and your individual needs, so please follow the package guidelines for dosing.
If you would like to learn more about ways you can start to handle the stress and sleeplessness that could be keeping you up at night, I invite you to set up a complimentary 30-minute Ease Stress Call with me. (Note: You'll need to fill out a very brief application to be selected for this free resource, valued at $200.)
Ready to learn about a holistic innovative and individualized approach to handling stress? If so, say good-bye to "cookie cutter" advice and click here to apply.