Pasta with Asparagus and Prosciutto Recipe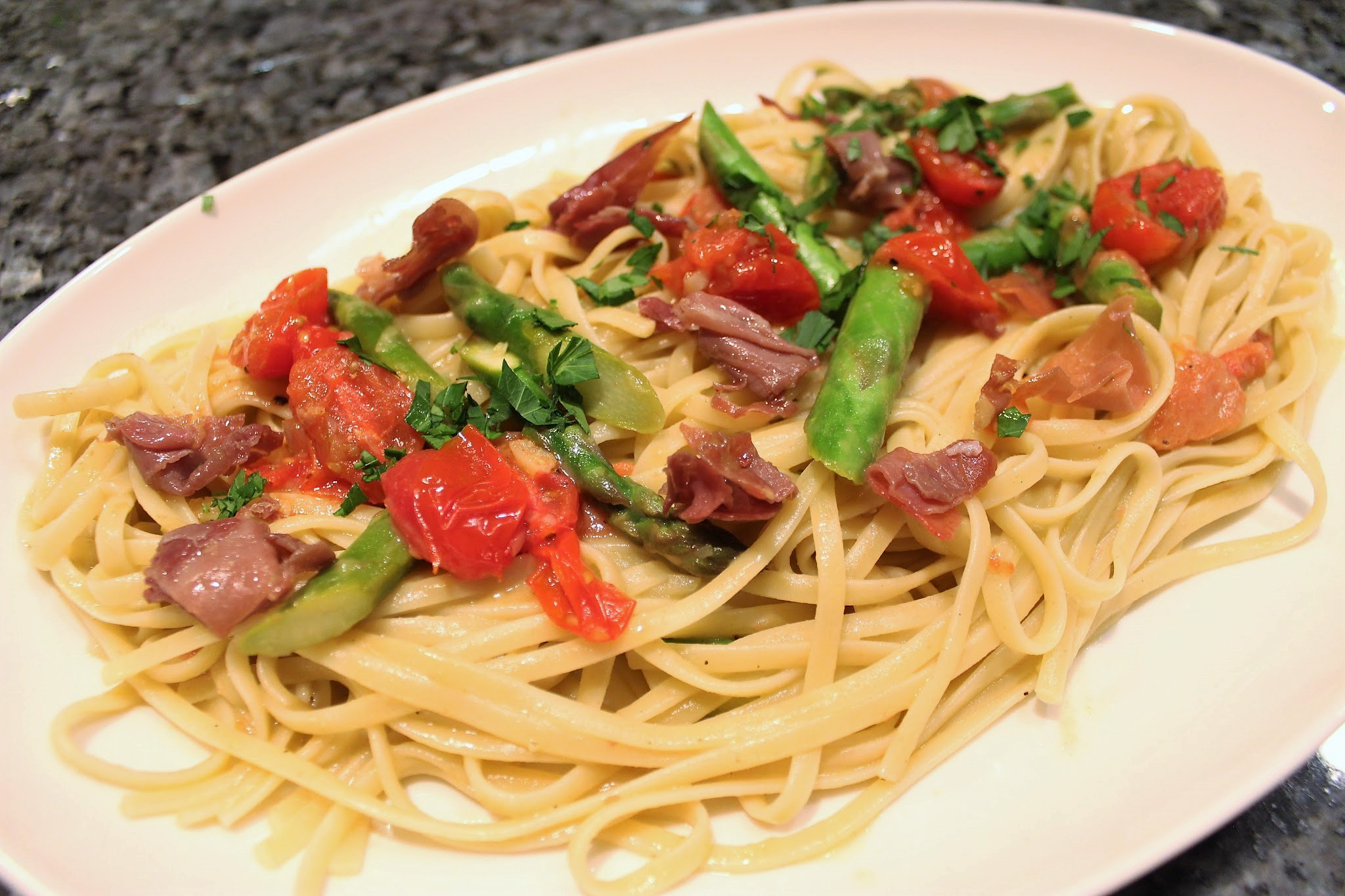 Hello everybody! Today I want to share with you this delicious pasta with asparagus and prosciutto recipe! Spring is here and asparagus is in season now. Follow along as I show you how to make this dish in my video and/or continue scrolling for the written recipe.
Ingredients:
1 lb. linguine
1-1.5 cups asparagus, halved
16 oz. grape tomatoes, halved
3 oz. prosciutto, cubed
1 avocado, cubed
1 shallot, chopped
2 -3 cloves of garlic, chopped
1 Tbsp. parsley, chopped
1 oh yeah baby, hot pepper (optional), chopped
olive oil
pecorino cheese
salt, to taste
black pepper, to taste
Bring a pot of water and a dash of salt to a boil and cook the pasta as per the package instructions.
Start by heating up a drizzle of oil in a frying pan over a medium flame. Once the oil is hot, stir in the prosciutto and fry until crispy over a medium/low flame.
In the same frying pan, add a little bit more oil and begin sauteing the garlic and shallot over a medium/low flame and cook for about one minute.
Next, stir in the tomatoes and saute over a medium flame for another 1-2 minutes.
Stir in the asparagus, hot pepper, and a pinch of salt and black pepper and continue sauteing for about 10 minutes, stirring occasionally.
To make the avocado sauce, blend the avocado with two cups of hot water. I just use the water from the pasta.
Once your pasta is cooked, drain and put back into the pot. Pour in the avocado sauce and the sauteed asparagus and mix all together.
Transfer some of the pasta with asparagus onto a dish and add a little bit of the fried prosciutto, a sprinkle of freshly grated cheese and some fresh parsley on top and serve. Enjoy and cin cin!