Decorating with Pillows
My husband is a good sport. Only once in our years together has he said, "enough with the pillows!" And, now, in retrospect, I have to agree. I think, at the time, I had nine or ten pillows on the bed
Decorating with throw pillows may seem like the last thing on your to-do list, but it is not a small part of the design process. This final touch is the perfect accent to bring home the look that you are trying to achieve. Although they are soft and comfy, they are not just fluff. Accent pillows are the easiest way to elevate a house to a (personalized)home. Pillows add personality (yours) to the home and act as a decorative upgrade. They are the perfect 'Small Indulgence' that brings a large return in your design direction.
A Recipe for Comfort
We are all familiar with the punch pillows add to our bed and the overall atmosphere and look of the bedroom. We can also achieve that same level of comfort throughout the house with pillows. If you have space, you can add a small settee or upholstered chair to the kitchen, by adding a couple of pillows you can change the kitchen's dynamic. The textile adds a counterpoint to the hard surfaces throughout the kitchen. And, it is the perfect spot for a friend to share a glass of wine while you're cooking.
There are so many pillows to choose from today that it can become overwhelming. Take a deep breath. I've found a few professional tips that will make the styling process easier and a lot more fun. Confidence has a way of dispelling fear, and once you have these tips, you will relax and enjoy the new looks you'll bring to your home.
From color schemes to arrangement formulas, these styling suggestions will bring out your inner designer and allow you to decorate like a pro. These photos can be the beginning of your inspiration board or can be added to Pinterest. Both of these are invaluable design tools you should always use before starting any decorating project.
Pick an Anchor Color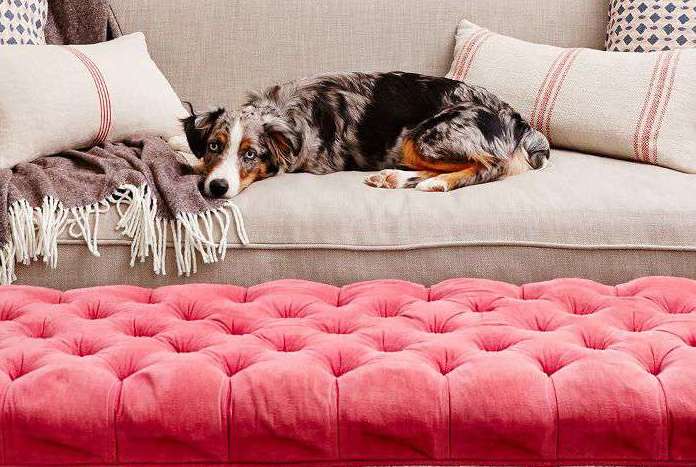 Look around your room, is there a piece of furniture, the couch, a side chair, perhaps a decorative ottoman that brings in a pop of color? That is your starting point. You do not want to outshine it. You want to highlight it with a complementary color scheme. Let's say it's a raspberry velvet ottoman. You could pick up the primary raspberry color in a soft, subtle stripe on a linen pillow. The linen will add just the right touch of yin and yang to the room, and the raspberry stripe will balance the color scheme. If it is a couch, you can add a few pillows of different sizes and shapes and perhaps an opposing color. To keep things exciting, you can add a cool-tone color, such as a steel blue velvet pillow that will contrast the anchor color and the friendly but opposing fabrications of linen and velvet.
Mix and Match Prints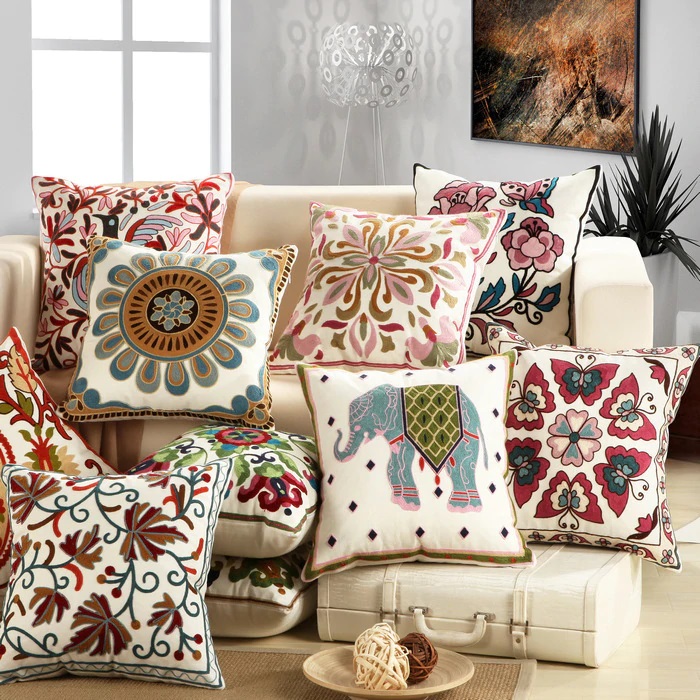 A vignette is a perfect example for decorating with throw pillows of different styles. Mixing and matching styles and prints will elevate the intrigue to keep the eye engaged in the grouping you have created. You do want to decide on a theme. You could select a Bohemian theme. The many different embroidery designs from India, like Kashmiri, Suzani, and Kantha, are unique from one another but work well together. An assortment of animal prints and fabrication can be very sophisticated. Do work within a color palette, so there is continuity. A lovely look is a French Country | Provencal combination of vintage stripes, mattress ticking, and a subtle plaid or check here and there.
Below, a vintage settee in an entry adds whimsy with the distressed toile, surrounded with classic cheetah, a Mongolian throw, and a petite beaded Flue-de-lis.
Another mix and match combo for a more modern look are; combining a graphic chevron print, with a few neutrals for balance and then make a standout statement with a floral print, that ties in most of the colors in the room. For the floral, select one of the new Granny Chic | GranMillennial prints! These are a bold combination of vintage floral design meets Mid-Century modern.
Experiment with Texture
There are so many options when it comes to pillow cover textures. The reward with texture is you can put many different elements together. Like…knotting, braiding, mud cloth, cowhide, it's almost endless. But, the result is an outstanding combination of design. When going in this direction, you'll want to stay on the neutral end of the color wheel. White, cream, vanilla, black, grey, taupe. Start with these six, and you cannot make a wrong turn. Oh, and lest we forget…shaggy fur or faux-fur pillows, or even a throw, it will create an extra cozy atmosphere if you have space. The fur will achieve a wild aesthetic outside of its fellow throw pillows' color, texture, and shape.
I hope you have time to explore the above sites. They are all beautifully presented and offer sources for a slightly off-the-beaten-path shopping experience…Enjoy.