Simplicity is the ultimate sophistication… Leonardo Da Vinci
There are; 271 sunny days in Honolulu. The average temperature is 85 degrees. Blocks to the beach from my house – two! Average time per day spent in my bedroom; eight hours – seven hours with my eyes closed.
Most of my friends had typical girly teenage bedrooms. The walls were papered with movie and boy-band posters. A colorful, matching bed set, and maybe a wild paint color on the walls. I barely remember what my bedroom looked like at 16. I know I had twin beds, and I slept in the bed by the windows. My life revolved around school, the beach, and my part-time jobs!
The Bed without a Room
All these years later, I have to say, I have had an interesting assortment of beds throughout the years, and a few did not come with a room! When I moved to California, my first 'solo' apartment was a studio with a Murphy bed in the living room. Every night I would open the double doors (which looked like closet doors)and pull down my bed. I loved the novelty and coziness about it.
My next bed came with a house, a tiny house, but again no bedroom! The bed was in the front sunroom, complete with a second front door and windows on three walls. The room was as wide as my double bed and a narrow nightstand. Small but very sweet with a full-width stained glass window behind the bed.
Bed number three was the most intriguing. It was in an architecturally award-winning 1935 beach house. The interior housed multiple levels, with one raised level at the far end of the ocean-facing great room. A cocktail table and two upholstered chairs sat in the middle of the space facing the ocean. On either side, there were two small, curtained alcoves. When the curtain was opened – a small, built-in double bed was revealed. Complete with a round, porthole boat window! Again, an unconventional bed in search of the 'perfect bedroom.'
Look no further, if you are thinking of a make-over, we have some tips and trends from top designers on color, comfort and coziness.
Color, Comfort, and Coziness
How delightful and neutering to find yourself sinking into bed with crisp, clean sheets and pulling a pillowy duvet up around you. It is the perfect decompression chamber after a tough day of 'Zooming' around – pun intended!. Since March of 2020, we have spent most of our time at home, which for many increased their anxiety levels about the pandemic and upended regular life. Before the pandemic, your apartments or houses were a place to stop by and change clothes. But, now, working from home, it's 24/7 within the same [boring] walls! So, where do you go when you need a calming retreat?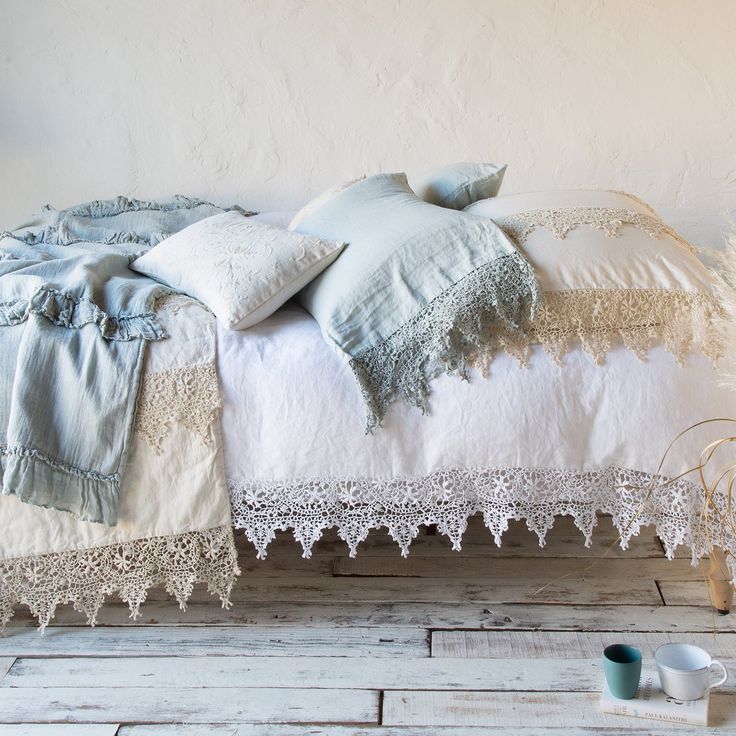 Color
Your bedroom…Having a bedroom that would also serve as a calming retreat suddenly has shot directly to the top of the 'Must Have" list. In today's environment, we are bombarded with 24/7 news, which is almost impossible to dismiss, and our levels of stress are ever-increasing. Now, more than ever, we need a haven that feels like a sanctuary to help us maintain balance and to add a few zen moments of quiet.
If there is one direction in bedroom design today, it is to create an atmosphere of calm. And a good place to begin is with color. The absence of color in an all-white room can feel a bit sterile. Muted, chalky colors range from serene blues, pale greens, washed rose, and even a pale/chalk-like yellow. If you are averse to color, the top neutrals are still going very strong. Of course, grey continues to lead the pack. Primarily because of the extensive range of available tones. Taupe is another favorite that is fast nudging grey to make room. Taupe can have the most splendid undertones of blush, or lavender, or green. You can also use color as an accent wall. A darker tone behind the bed creates a frame that accentuates and enhances the bed.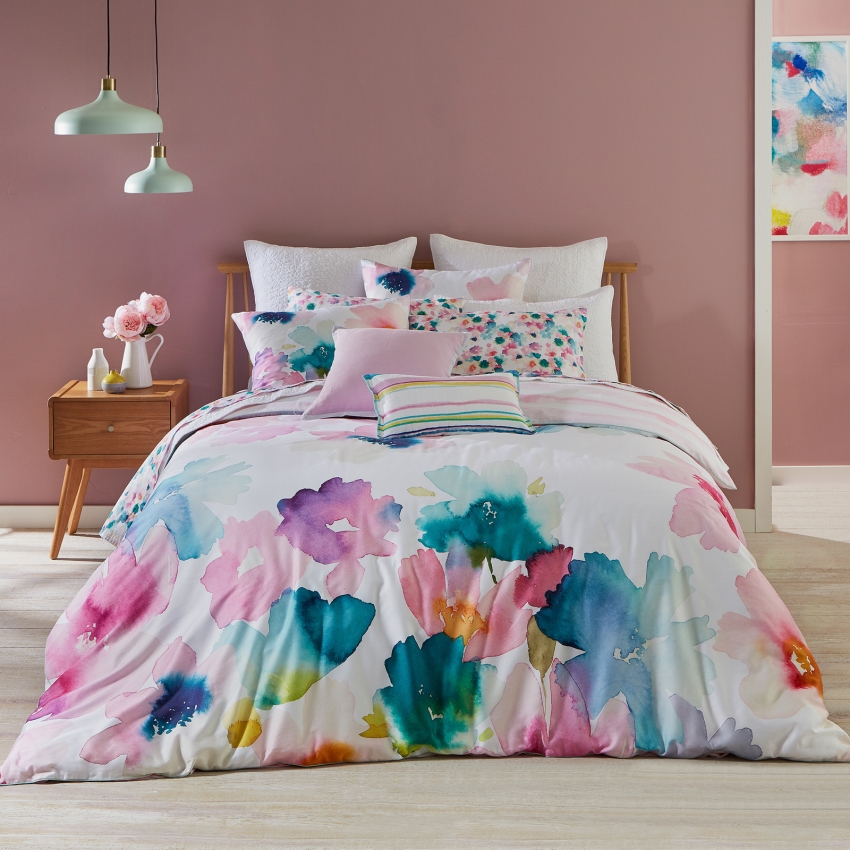 Wallpaper or wall upholstery is another option for color. It is also one of the fastest moving trends in home design right now. And, the selection is outstanding. My mother had three accent walls. The living room, the dining room, and the kitchen. Every other year she would change out the wallpaper. My personal favorite is an accent wall with over the top paper. Or, you might want to consider the look that a chair rail creates with another texture below the wallpaper. It adds interest and breaks up the pattern if you are papering the entire room.
Comfort
We all know what it is like to go mattress shopping. It's daunting. It's like laying the foundation for a house. You have to get it right, or you'll be returning, donating, or just plain miserable on an uncomfortable mattress. But, once the right mattress is in place, the fun begins. I personally love to dress a bed. And, when I turned 30, my present to myself was new linens for my bed. I made the entire bed in white Battenberg lace and vintage textiles. Including the duvet, Euro shams, and throw pillows in a few sizes and fabrications.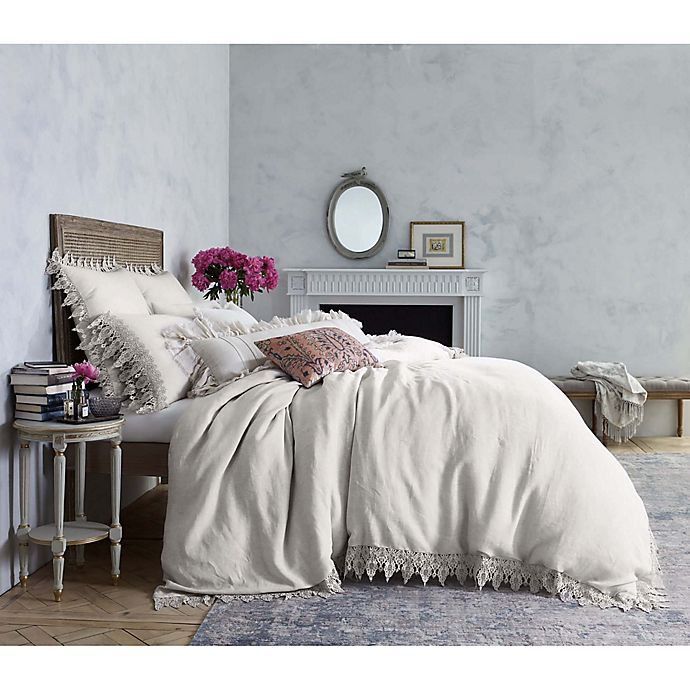 Most important, it has to be incredibly comfortable. And, I think, as most of you know good bed linens are not inexpensive! After the mattress has been settled, your next investment is the mattress topper. I personally like a topper with the little pillowy pockets. It's like lying down on a cloud, with a solid surface just below it. Next is the down comforter. I like a mid-weight, it's perfect in the winter. For the summer months I would move it to the foot of the bed, folded with a contrasting color or pattern on the cover, to work back with the existing bed linens..
Brooklinen.com. This is your one-stop shopping haven. They are located in Brooklyn, NY, and can help you make all the right decisions on big-ticket items, like the duvet, pillows, and blankets. Customer service is a dream. They have three fabrications for their sheets, Classic Percale, Washed Linen, and Luxe Sateen. You can buy a bundle that includes a duvet cover. I thought that was so clever!
Upholstered headboards are making a comeback. And, the statement they make in a bedroom is up to you. There are so many shapes and fabrications to select from. Ballard Designs has a great selection of headboards. [We're going to chat later about the best way for you to design and pull together your new sanctuary.] You can go fancy with a tufted headboard, a dash of yin and yang with nailheads [on velvet perhaps!!] Or a Toile de Jouy, for that inviting French Country look. The fabric selection is unlimited. Let's not forget the comfort factor. When you are sitting up in bed with the headboard, you now have a luxurious backrest…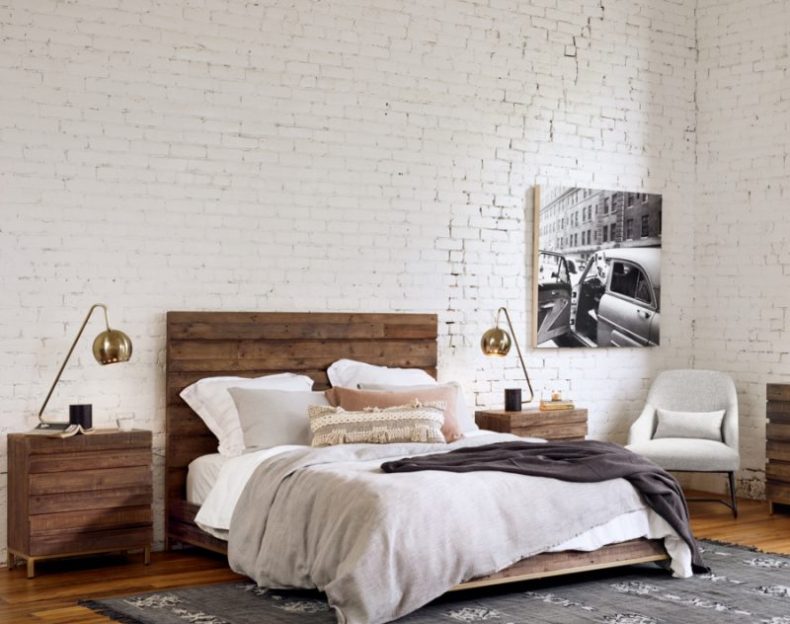 Coziness
When you surround yourself with the familiar, you feel more secure and at home. A comfortable thought is to create a cozy little reading nook in your bedroom. Five easy pieces…A small space, an area rug – to define your space. The most comfortable chair and ottoman you can find, or a chase. Side table, big enough for a cup of tea or a glass of wine, [and a plate of cookies :)] A floor lamp. Best with an adjustable arm for reading.
There are a few different design camps when it comes to window coverings: drapes, sheers, blinds, roman shades, no covering. Like you, it seems I've had a little bit of each throughout the years. Right now, in my bedroom, I have sixteen feet of a continuous window. The window came with roman shades, which I kept while thinking about what I would do. And, what did I do – sheers, curtains, and a cornice. Yup, all three. Actually, by doing all three, the windows are their own ecosystem. The sheers keep the room cool and add an alluring, nuanced glow when the morning sun showers the room. The curtains add a traditional contrast next to the somewhat clean lines of the bed. And the cornice – we added nail heads and a band of black on the taupe fabric, and it was just right. The curtains also help retain the room's warmth, as it gets quite chilly here in Cuenca at night.
The options for creating your personal sanctuary are unlimited, with an abundance of colors, textures, and a mix of old and new. Let your imagination be your guide. Repurpose things you find at the flea market or tag sale. Shine up that bar cart and make it your night-stand. Find a couple of vintage porch or coach lights and use them as sconces. Make it yours. This is where you begin and end your day.
The touch of an ottoman, an upholstered bench, or a storage piece that doubles as a sitting space. Are good ideas for the end of the bed. A large scale mirror positioned to reflect the outdoors can add an unexpected dimension to the room. And least we forget – our greens! Adding plants to your room brings in a reminder of nature and helps remove toxins. I'm on the hunt for a fiddle fig tree. An area that can be overlooked is lighting. A dimmer is a great investment, especially for your night stand lamps. One or two lamps for ambient lighting will lend a soft glow. Avoid harsh lighting and please, no overhead in the bedroom, unless in an emergency! You'll also want to invest in candles. Candle light will set the tone for your personal sanctuary. A soft glow will envelop your surroundings and lull you to dreamland.
I'm a big fan of vision boards, especially if I'm planning design changes. For years I was the 'tear-sheet' queen. Ripping inspiring pages from design and fashion magazines. But, times change and I'm currently learning and practicing how to create a digital vision boards.
Here are a couple of examples of digital vision boards. In either format, you'll want to include all the elements you 'envision' in the room. You'll want color and pattern swatches of paint, textiles, bedding, window treatment, rugs. Include your lighting, accessories, and wall treatment. And, all your furniture – bed,nightstands, ottomans, and the upholstered chair for the cozy reading nook. And, most important, have fun!!